Teamsters Local 786 Helmets to Hardhats Page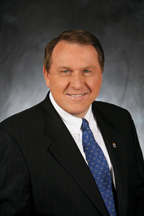 General President James P. Hoffa
The International Brotherhood of Teamsters, under the guidance of General President James P. Hoffa, has made great strides in assisting our transitioning military men and women as they return to civilian life. Through their leadership, the Teamsters have added a whole new dimension to this valuable program.
Teamsters Joint Coincil 25 President John Coli asked that President Mike Yauger of Teamsters Local 786 be appointed as the International Coordinator for the Teamsters Helmets to Hardhats program. Yauger is a combat Vietnam Veteran that has been assiting veterans in Chicago on many levels. President Hoffa recognized what Mike Yauger, Teamsters Local 786 President in Chicago had done to turn that local around. He asked Yauger to take on this important role, because he knew that with Mike being a decorated Veteran, he would understand what these returning heroes were going through.
According to Yauger, "As a Vietnam Veteran myself, I know how hard it was for me to transition from the military to civilian life. We want veterans to know they are not alone, that programs such as Helmets to Hardhats stand ready to assist them with there transition."
Mike Yauger is continuing his call to duty by giving new life to the Chicago Helmets to Hardhats program. Yauger has forged very unique relationships between government officials and agencies, corporate heads and union officials. He has been able to use those relationships to not only help these returning veterans, but also strengthen his contract negotiations between management and labor leaders.

Michael Yauger, Teamster Local 786 President
Teamsters Joint Council 25 Helmets to Hardhats has formulated a National Protocol and is now a role model for the International Helmets to Hardhats program. Join us in fighting for those who fought for us.
For more information on the Teamsters Helmets to Hardhats program contact 202-624-8112 or contact President Yauger directly at 312-666-2750
Job Resource Forum
| | | |
| --- | --- | --- |
| Updated On: Jun 10, 2009 (18:21:00) | | |
300 S. Ashland Ave. • Suite 501
Chicago, IL 60607
Phone: 312.666.2750 • Fax: 312.666.7943
HONORABLY DISCHARGED VETERANS:
PLEASE JOIN US FOR THE
TEAMSTERS VETERANS INITIATIVE/
HELMETS TO HARDHATS
JOB RESOURCE FORUM
Date:

Wednesday, August 5, 2009
Registration begins at 8 a.m.
Place:

Teamsters Local 705 Auditorium,
328 South Marsh?eld, Chicago, IL
(Behind Teamster City at Ashland & Jackson Blvd.)
If you are a veteran and would like to register for the Forum, please
click here
. If you are an Employer and would like to participate in the Job Resource Forum, please
click here
, or contact Mike Yauger at 312-666-2750
"Fighting for Those Who Fought for Us"


The following information is available:

Lori Fraher Project Dinner (Updated: Nov 08, 2008 12:13:00)
Local 786 Supports 173rd Airborne Brigade (Updated: Sep 17, 2008 18:22:00)
Pipeline Registration (Updated: Jun 26, 2008 12:50:00)
Page Last Updated: Jun 10, 2009 (16:21:00)